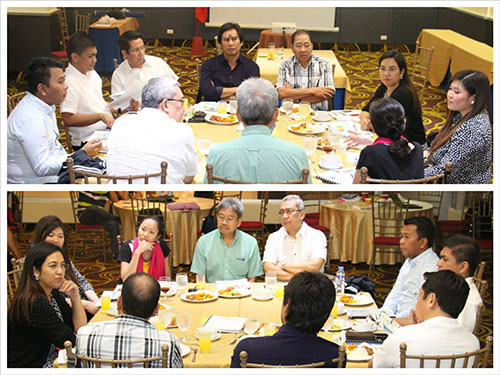 The Union of Local Authorities of the Philippines held its 75th Special National Executive Board Meeting and Dinner with Department of Health Secretary Janette Garin on January 22, 2015 held in Elan Hotel, Greenhills, San Juan City. In attendance during the meeting are ULAP Executive Board Members composed of President Gov. Alfonso Umali Jr., Mayor Sandy Javier (Vice Chairman), Atty. Edmund Abesamis (Sec. Gen), Vice Gov. Leonides Fausto (2nd Vice Pres.), Coun. Kirk Asis (Asst. Sec. Gen.) , Vice Gov. Humerlito Dolor (Treasurer) and Coun. Maybelyn Dela Cruz-Fernandez (PRO).
Also present during the special meeting are Tarlac Gov. Victor Yap, Dr. Eddie Dorotan of Galing Pook, and Prof. Ernie Garilao of Zuelig Family Foundation.
Executive directors and guests from ULAP member leagues were represented by Ms. Annalyn Flores of LVGP, Chris Abcede of VMLP, Atty. Rey Fajardo and Peachy Aguado of NMYL, Emelyn Magdurulan and Dennis Bernabe of LPP, Robert De Castro and Mat Catral of PBMLP, and Lloyd Paras and Marissa Lerias of LMP.