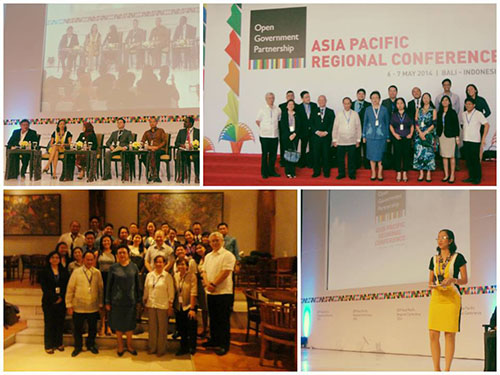 [May 28, 2014] The Union of Local Authorities of the Philippines, as represented by its Executive Director Czarina Medina-Guce, participated in the Open Government Partnership Regional Summit in Bali Indonesia, on May 5-6. The Philippine contingent is composed of representatives from the Office of the President, Department of Interior and Local Government, Department of Budget and Management, House of Representatives, and partners from the civil society, academe, and business sectors.
The Open Government Partnership (OGP) is a multilateral initiative that aims to secure concrete commitments from governments to promote transparency, empower citizens, fight corruption, and harness new technologies to strengthen governance, through meaningful and collaborative work with civil society and other non-government sectors. The Philippines is a founding member of the OGP in 2011. ULAP is the local government representative to the national steering committee of the Philippine OGP.
Some of the current commitments of the Philippines in the OGP are the Seal of Good Local Governance, Open Data Philippines, Extractive Industries Transparency Initiative, Grassroots Participatory Budgeting, and the Transparency Seal.
In her sharing in the Closing Plenary, Medina-Guce emphasized that in order for open governance to be effective and have impact, OGP must be owned by local governments. The relevance of OGP to ordinary citizen's everyday consciousness will only happen if OGP will be brought to the frontlines, which is the domain of local governments. Local governments must work on OGP projects not just on the level of compliance to the national government, but local governments must be able to understand OGP and put their own stake and resources for innovative openness to happen.
Moving forward, ULAP will co-create the national action plan with the members of the steering committee, and advocate for intensified participation of local governments in OGP. Collaborative work with the Department of Budget and Management for the Grassroots Participatory Budgeting, and OGP-related fora with development partners, national agencies and civil society groups are currently being pursued, aside from the current work of ULAP in the OGP-Philippines commitments.