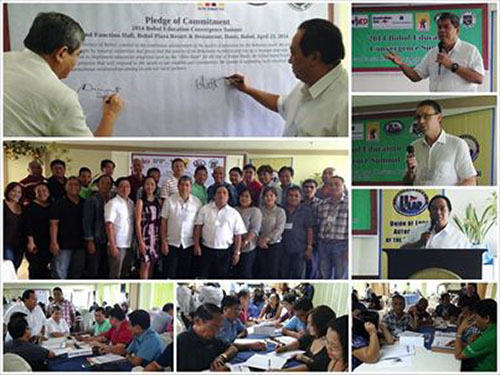 Bohol governor Edgardo Chatto together with the municipal mayors, Department of Education (DepEd) officials, and school supervisors signed a 'Pledge of Commitment' last April 23 during the 2014 Bohol Education Convergence Summit held in Panglao, Bohol to jointly work to solve the education-related issues and concerns of the province including malnutrition of poor school children, the need to assist edu (OSY), and reconstruction of earthquake-damaged school buildings. The summit was attended by 14 municipal mayors, 1 city councilor; with a total of 78 participants.
"In Bohol, education is everybody's business. While the DepEd is the national agency and takes care of the whole program, as we move to the ground we feel that the stakeholders, whether officials, educators, parents, business sector must continue to work together. We are all part of this monumental effort," said Governor Chatto.
In his 'State of Bohol Education Report', Chatto said that through local partnerships and the priority given by the provincial government to education, the province was recently awarded as "Best Implementor of DepEd's School Building Program".
He also mentioned the improvement of academic performance and reduced dropout rates in the province as a result of the Dynamic Learning Program (DLP), a teaching and learning approach used in 163 schools by more than 73,000 students across Bohol province.
He added that the Bohol provincial government recently signed an agreement with Synergeia Foundation for capacity-building and Local School Board support in selected pilot areas.
Despite these positive results, Governor Chatto emphasized the need for improved "convergence" to address the needs of under-nourished poor school children, out-of-school youth, and school buildings that were damaged by the 7.2-magnitude earthquake that hit Bohol in October 2013.
DepEd Undersecretary Mario Deriquito, in his briefing, said that the education department will work with local government units (LGUs) in Bohol to implement the Abot Alam Project and School-Based Feeding Program. He said that to achieve Deped's goal of having "zero out-of-school youth" in the country by 2016, the Abot-Alam Project will be launched in Bohol to develop a comprehensive OSY database and introduce "program interventions in education, employment, and entrepreneurship".
"For us partnerships are important because, first, it generates more resources. It also creates a community of supporters or constituency for Abot-Alam and school-based feeding. Also, partnerships or bayanihan contributes to nation-building, which is one of the goals of DepEd", Deriquito said.
David Dutton, the Australian Embassy's deputy head of mission also attended the summit and said that, "...the Australian government is proud to be a long-term development partner of Bohol and that the provincial government working with local and national authorities, the private sector, and various communities is an effective way of addressing challenges in public school education." Dutton also said that the Australian government is "very keen to support" projects that would help improve the quality of education in Bohol province.
Czarina Medina-Guce, Executive Director of the Union of Local Authorities of the Philippines (ULAP) said that the summit aims to enhance "collaborative planning and the formation of local alliances for education in Bohol". She said that ULAP will continue working with LGUs in Bohol, Jollibee Group Foundation, and DepEd for the implementation of the Abot-Alam and School-Based Feeding Program as part of the convergence initiatives of ULAP for LGUs in the province.
She added that a follow-up workshop will be in held in May 14-15 in Bohol to enable LGUs and DepEd officials in Bohol to make more detailed implementation plans for joint education projects based on targets set during the April 23 education summit.
ULAP co-organized the summit in partnership with DepEd under the Coalitions for Change (CfC) for Education, a program under the Australian Department of Foreign Affairs and Trade (DFAT) and The Asia Foundation (TAF) Partnership in the Philippines. Under CfC, Bohol serves as a model for provincial government's expansion of local resources for education.