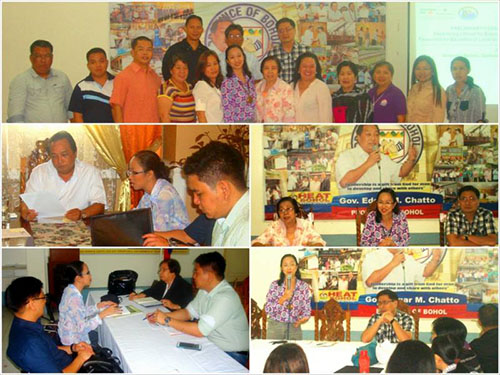 The Union of Local Authorities of the Philippines (ULAP) conducts its first workshop in Bohol with Gov. Edgar Chatto and local government and DepEd officers, on March 19-20, to map out the innovations on education to develop a model for expanding local resources for education in a provincial government and its component cities and municipalities.
The project is supported by the AustralianAID-The Asia Foundation Coalitions for Change (CfC) partnership in the Philippines. This is the second engagement of ULAP with CfC. The first engagement focused on mapping the needs and issues of local education governance, which ended with a policy workshop in October 2013.
For the current project, the model being developed is seen as basis for recommendations for local governments and DepEd for further capacity-building and governance strategies.
ULAP was represented by its Executive Director Czarina Medina-Guce, and its program officers Ernie Cifra and Genixon David. The Asia Foundation was represented by its Senior Program Officer Henry Grageda.