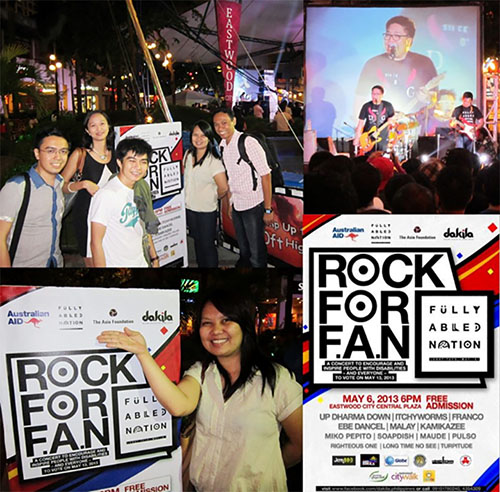 As one of the partners in the "Fully Abled Nation (FAN)" elections initiative for persons with disabilities, the Union of Local Authorities of the Philippines joined its partners and PWD groups in the "Rock for FAN" concert on May 6, 2013 at the Eastwood City Central Plaza.
The Rock for FAN is a free concert organized by DAKILA, in partnership with Locked Down Entertainment, Megaworld, Eastwood City, and Jam 88.3, under the Disability-Inclusive Elections initiative popularly known as the Fully Abled Nation, implemented by The Asia Foundation as part of Australian Aid's program on Disability-Inclusive Development.
As FAN partner, ULAP and the Philippine Alliance for Patient Organizations (PAPO) assist in the monitoring of PWD-friendly elections, and the policy advocacy in the development and enhancement of Persons with Disabilities Affairs Offices (PDAOs) in various local government areas.