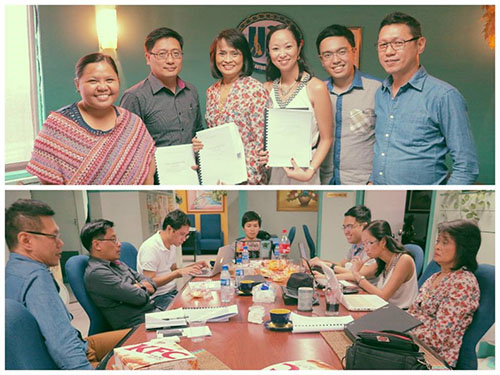 ULAP Executive Director Ms. Sonia Lorenzo, Head of Plans & Programs Ms. Czarina Medina, and Program Officer Mr. Kevin dela Cruz turn over the end-of-grant report to The Asia Foundation (TAF) Senior Program Officer Mr. Henry Grageda and Assistant Program Officer Ms. Chay Dionco on November 4, 2013.
This officially closes the preliminary engagement of the two organizations under the AusAID-TAF Coalitions for Change (CfC) initiative on "Strengthening Local Capacity to Institutionalize Education Reforms", which ran from March to October 15, 2013, which enabled the conduct of the series of consultations with LGUs, the Local Education Policy Workshop (October 10), and several convergence meetings with development partners.
Also in the picture are representatives from the Jesse Robredo Institute of Governance (led by Prof. Kiko Magno), which is also a partner in the CfC. The three organizations furthered the conversations towards outlining next steps in the policy reform, convergence of programs with other partners, and capacity development of Local Schools Boards. — with Chay Dionco and 3 others.