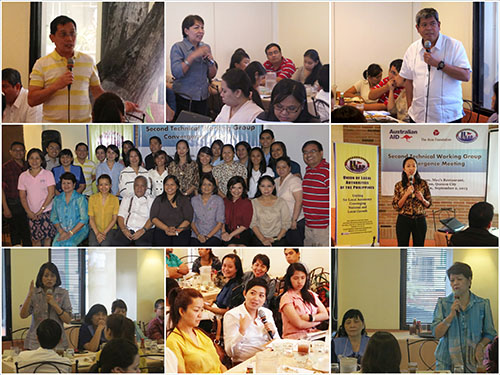 The Union of Local Authorities of the Philippines, through the support of AusAID and The Asia Foundation – Coalitions for Change, presented the outputs of the series of consultations with local governments on education needs and issues on September 2, in Max's Restaurant, Scout Tuason QC.
The report details the range of issues that hinder the institutionalization and mainstreaming of gains in education programs being conducted by LGUs. Some of the more highlighted issues are: insufficient synchronization of local DepEd and LGU planning, budgeting, implementation, and monitoring of programs; inefficiencies in the distribution of teacher and classroom allocations from national; the interrelatedness of addressing local education issues and needs with other service delivery areas (i.e., poverty reduction, health, nutrition, and sanitation interventions). Furthermore, inputs for possible policy revisions and long-term capacity-building areas were present.
The output serves as input to the partners present as to how to further engage LGUs to work on education needs on the ground. The Coalitions for Change will also use the report to draft the policy agenda which is to be presented to local chief executives for vetting in a later workshop.
Partners present include: USec Mario Deriquito (DepEd), Ms. Virgie Clavel (DILG), Mr. Benjamin Abadiano (Assisi Development Foundation), Ms. Lulli Herras de Leon (Ayala Foundation), Dr. Nora Licup (Bicol University Graduate School), Prof. Anne Candelaria (ADMU-Political Science), and representatives from the League of Provinces, League of Cities, League of Municipalities, Jollibee Group Foundation, Galing Pook Foundation, E-Net Philippines, DLSU-Robredo Institute of Governance, ANSA-Check my School, Parent Advocates for the Visually Impaired Children, Philippine Business for Education, Local Government Academy, Bayan Academy, Knowledge Channel, and PhilDHRRA.