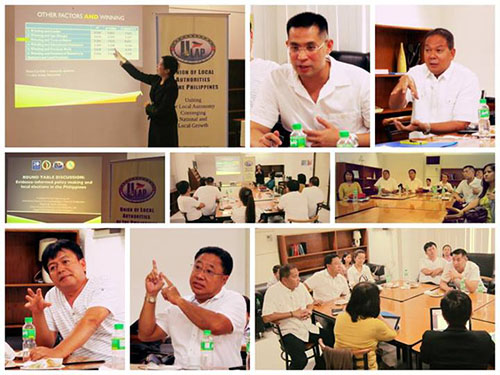 "Does the use of evidence in informing policy choices (or, 'evidence-informed policy making' [EIPM]) by local politicians help them get re-elected?"
The Union of Local Authorities of the Philippines pursues the question in close partnership with the Ateneo de Manila University (ADMU)-Department of Political Science, and the League of Municipalities of the Philippines (LMP) and as funded by the International Network for the Advancement of Scientific Publications (INASP). Prof. Anne Candelaria of the ADMU leads the research project.
After months of data gathering, the results were presented to selected mayors for feedback and inputs in the round table discussion held on July 3, 2013 in the Ateneo de Manila University. The local chief executives who participated in the discussion are Mayor Len Oreta (Malabon City) Mayor Jun Pacalioga (Dumingag, Zamboanga del Sur), Mayor Jun Versoza (Tagudin Ilocos Sur), and Mayor Joel Jaime Payumo (Secretary General, LMP).
The inputs of the mayors will be accounted for in the final research report which will be finished later this year.