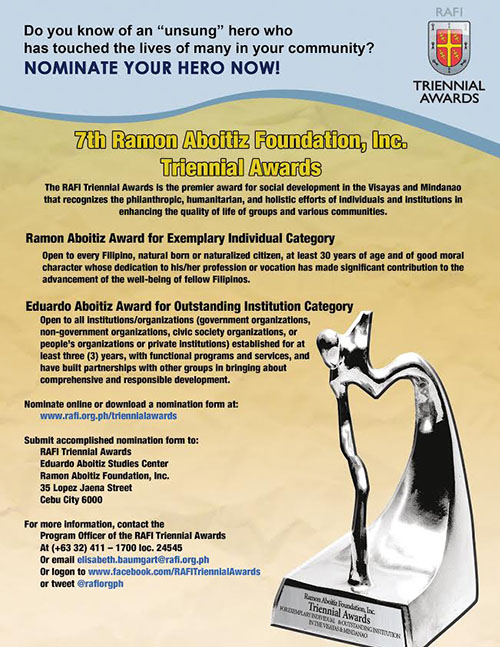 The search is on for the Exemplary Individuals and the Outstanding Institutions in the Visayas and Mindanao! Do you know of an "unsung" hero who has touched the lives of many in your community?
The RAFI Triennial Awards is the premier award for social development in the Visayas and Mindanao that recognizes the philanthropic, humanitarian, and holistic efforts of individuals and institutions in enhancing the quality of life of various communities and groups.
Nominate them today! Visit this link to send us their details: www.rafi.org.ph/triennialawards/425/nomination-form/ (Multiple nominations are allowed. Nominating is easy: Tell us their name, their contact details, and your reason for nominating them!)
You may nominate them online or you may fill up the nomination form through the link below and send the form to our office:
RAFI Triennial Awards - Eduardo Aboitiz Development Studies Center
Ramon Aboitiz Foundation, Inc.
35 Lopez Jaena Street
Cebu City 6000
Learn more about the RAFI Triennial Awards by visiting our Facebook Page: https://www.facebook.com/RAFITriennialAwards/ or visiting our website: www.rafi.org.ph/triennialawards/.
Help us find the next finalists to the 7th RAFI Triennial Awards. Finalists and Awardees will receive a cash prize, publicity and promotions of their work, and a special RAFI Triennial Awards trophy.
Download the Nomination Form here.