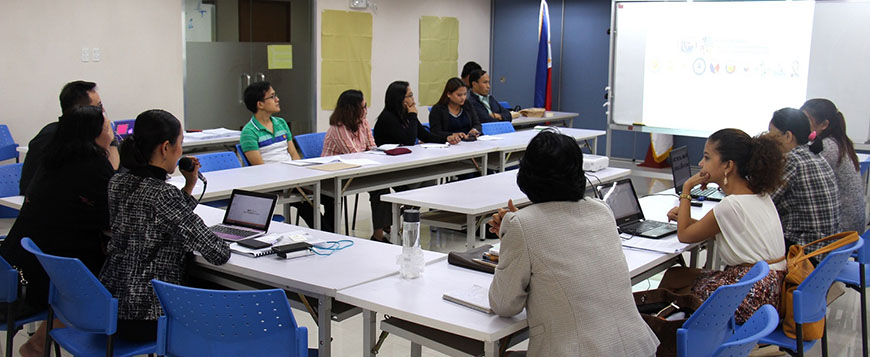 The Union of Local Authorities of the Philippines (ULAP), together with Atikha Overseas Workers and Communities Initiative, Inc., conducted a Policy Subgroup for Migration and Development (M&D) Meeting (otherwise known as 2nd Technical Working Group Meeting) on March 29, 2016 at the 9F DILG NAPOLCOM Building, EDSA corner Quezon Avenue, Quezon City. The initiative to convene relevant government and non-government organizations working on local initiatives for M&D as part of the Policy Subgroup is part of the Scaling Up Initiatives in Mobilizing Migrant Resources towards Agriculture Development in the Philippines, supported by the International Fund for Agricultural Development (IFAD).
Among the participants who attended were Assistant Secretary Grace Relucio-Princesa of the Department of Foreign Affairs, Atty. Golda Roma of the United Nations Development Programme, Mai Dizon-Anonuevo of Atikha, Edwin C. Pasadol of the Department of Trade and Industry, Jamie S. Vergara, Jr. of the Department of Interior and Local Government, Maria Janica V. Brigola of the Philippine Commission on Women, Lovely S. Mores of the National Economic and Development Authority, Sherwin C. Tapalla of the Department of Agriculture-Agricultural Training Institute, and Melvin D. Caseda of the Department of Labor and Employment-National Reintegration Center for Overseas Filipino Workers.
Continuing the efforts and success of the 1st Technical Working Group (TWG) Meeting conducted last October 23, 2015, the Policy Subgroup Meeting was organized to converge initiatives of key national government agencies, local government agencies, private sector, and civil society organizations to facilitate the sharing of financial, technical, and human resources in mobilizing migrant resources towards local development. Furthermore, it was conducted to develop the requisite policy support linking M&D to the Sub-committee on International Migration and Development, under the National Economic Development Authority.
The 2nd TWG for M&D was able to generate and consolidate policy directions for a planned Round Table Discussion (RTD) on M&D in relation to ULAP's #ParaSaBayan advocacy. The meeting identified specific policy directions that will eventually advocate for the development of sound policies to promote M&D initiatives to national and local government, which will be further discussed in the planned RTD this year.