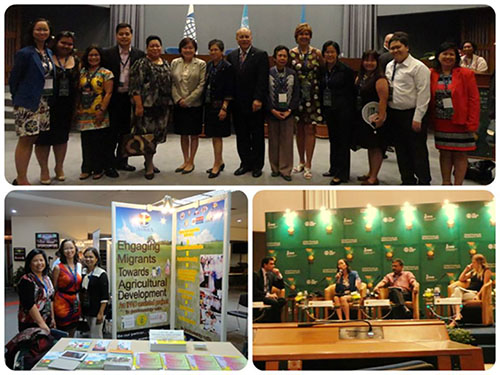 The Union of Local Authorities of the Philippines (ULAP), represented by its Head of Plans & Programs Unit Ms. Czarina Medina, shared the OFW Pinoy WISE (Worldwide Initiative on Investment, Savings, and Entrepreneurship) in the Global Forum on Remittances, organized by the World Bank and International Fund for Agricultural Development (IFAD), 19-23 May 2013, in the United Nations Conference Center, Bangkok Thailand.
The partnership of Atikha with ULAP, OWWA, and DA was highly lauded in the forum for its strategic and innovative engagements that converge efforts of NGOs, local governments, and national government agencies, both in the source provinces and destination countries. Atikha received the plaque of recognition from the World Bank and IFAD for the initiatives.
As PinoyWISE Convenor, ULAP assists in the mainstreaming and upscaling of the program to local government units that send high numbers of migrants abroad. ULAP's participation in the forum's conversations allowed for the recognition of the importance of local governments as platforms for sustainable programs for migration and development.